A rooftop deck can be a great way to take advantage of the summer season. Rooftop decks help make the most of your outdoor space. Whether looking for a place to relax, entertain friends, or grow plants and gardens, a rooftop deck can provide everything in one place.
From fresh air and stunning views to the convenience of being close to home, a rooftop deck is a perfect way to enjoy the summer months.
With the right design and materials, you can create a beautiful and functional rooftop deck that will serve you well through the hot months and beyond.
A Rooftop Deck is a Great Addition to Your Property
Adding a rooftop deck to your property can be an excellent way to make the most of your outdoor living space. You can enjoy beautiful views and much-needed outdoor relaxation with a rooftop deck. Add plants and gardens to the area to create your green oasis.
There are some essential considerations when building a rooftop deck. The most important one is the roof's structural integrity. Make sure that it can support the weight of any added materials. Research local regulations as well as building codes before getting started. Always consult with a structural engineer to help with the design and use an experienced roofing construction contractor for installation.
There are plenty of options if you're looking for design ideas for your rooftop deck. There is something for every taste, from traditional wood decks to more modern materials like metal. For those with a green thumb, consider adding a green roof to your deck.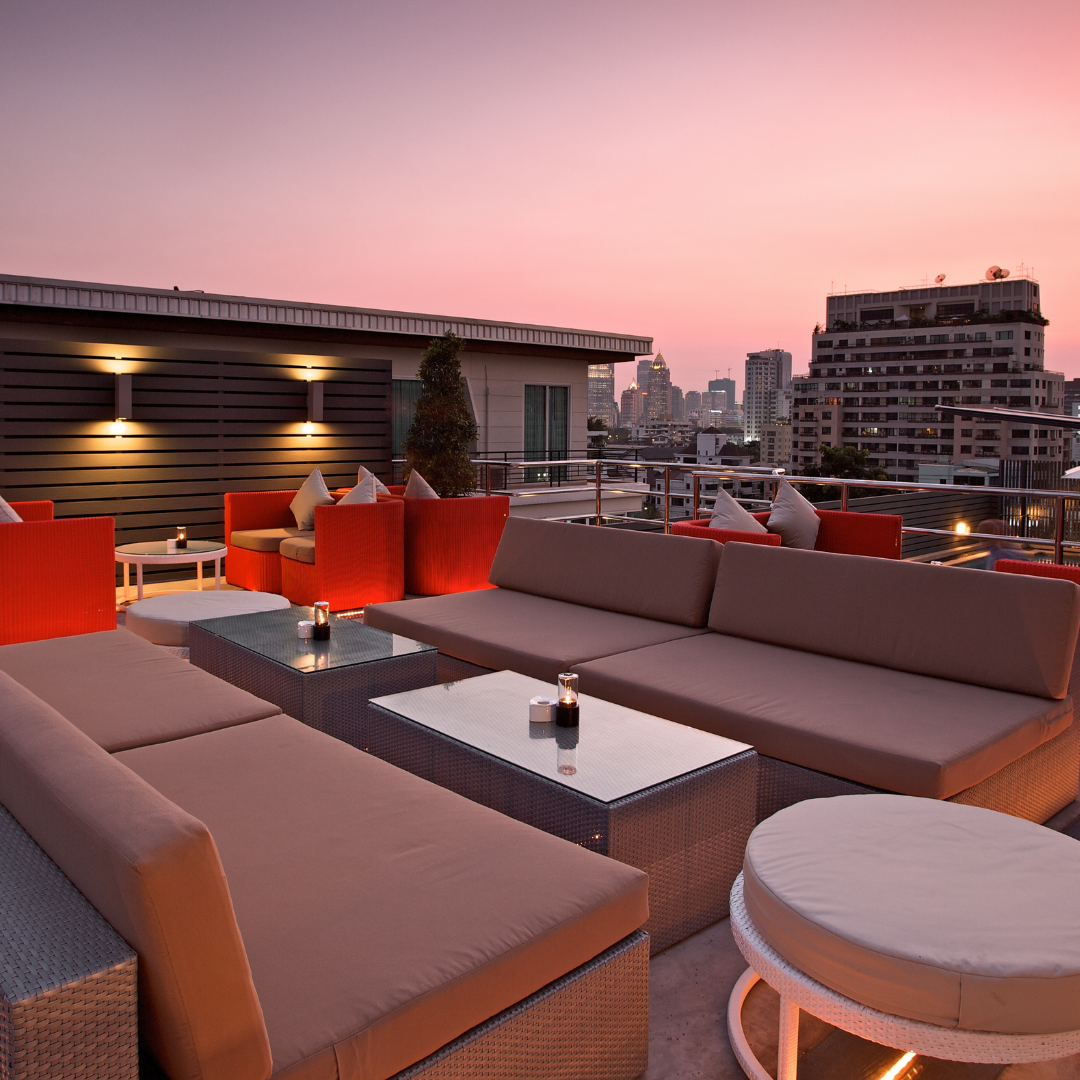 Small Roof Deck Ideas
If you have a small rooftop and want to maximize your space, there are plenty of ways to create a stunning deck.
Here are some ideas for creating a great-looking small roof deck:
Incorporate green into your rooftop design. Consider planting flowers and other plants in planters or installing a green roof. This will add color, texture, and charm to your space and make it more inviting.

Use railings for safety and to define the deck's boundaries. Use lattice screens to divide up the area, adding character and interest.

Keep it simple. Choose neutral colors for your furniture and decor. This allows you to easily change things when you want a different look or feel.

Bring in some light with solar-powered string lights or candles in lanterns. This creates a warm, inviting atmosphere on the rooftop.

Opt for small furniture pieces that can be moved around easily. Use light-colored furniture to create the illusion of a larger space.
Creating a small rooftop deck doesn't have to be complicated or expensive. You can transform your small rooftop into a beautiful, inviting oasis with just a few simple touches.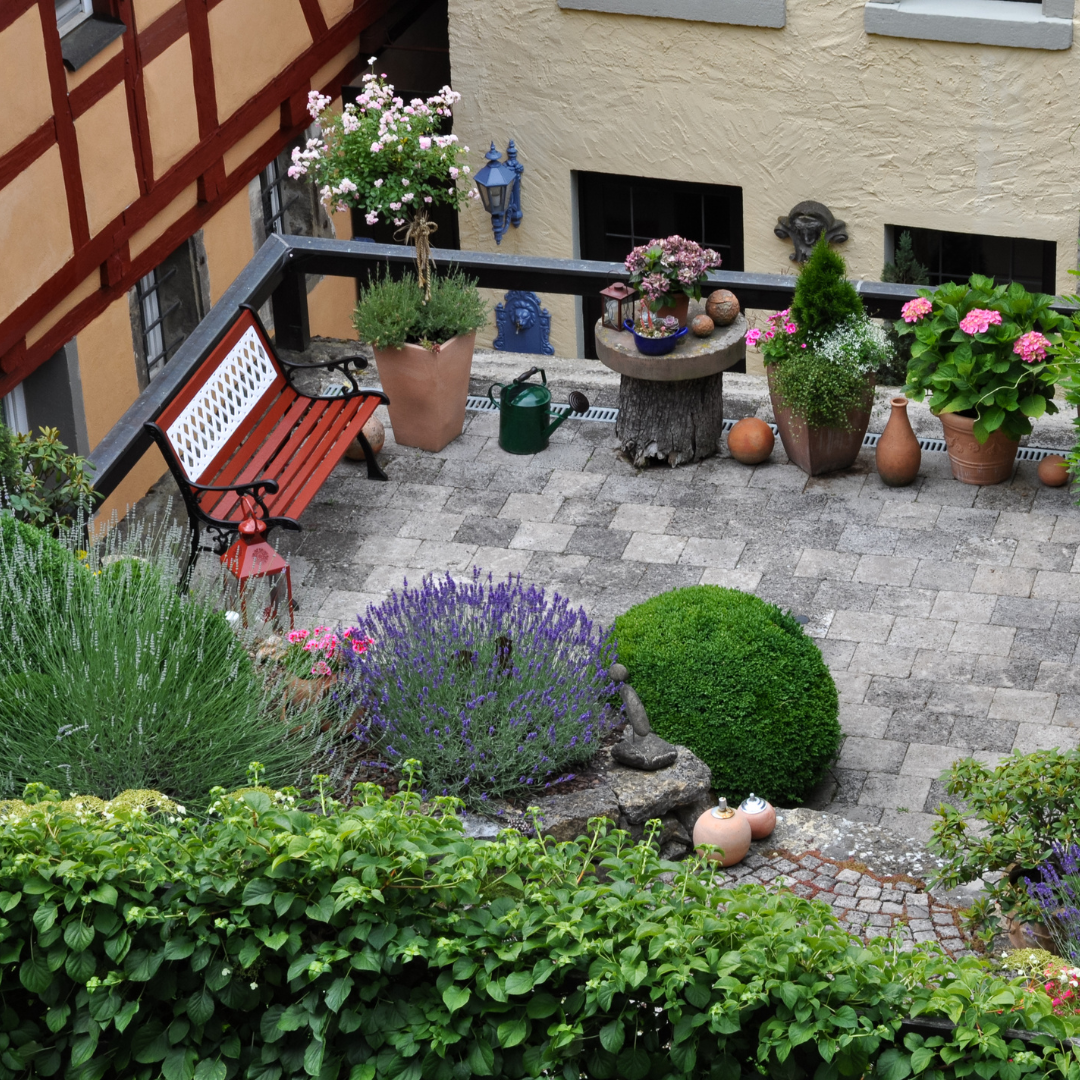 Rooftop Decks are Perfect for Plants and Flowers
Rooftop decks are ideal for those who want to enjoy their outdoor space while growing plants and flowers. You can create a beautiful garden oasis on your rooftop deck with the right plan.
Orient the green areas of your roof to allow plants to get an ideal amount of sunlight (this will depend on your climate and latitude).
Create a structure that has plenty of room for soil and drainage. Look into different green roof options, such as building a container garden or an entire living roof.
When it comes to decorating your rooftop deck for gardening, make use of your vertical space.
Hanging pots and trellises are great ways to maximize the area and create a unique garden display. Add outdoor furniture and accessories that fit with your design aesthetic.
For a more natural look, feature native plants and grasses. These will give your rooftop deck a more wild, natural feel. Native plants are also low maintenance, requiring less extensive irrigation, soil amendment, and care.
You can use different lighting to create moods for other times of the day or evening.
Ideal Plants and Flowers for Rooftops
One significant part of having a rooftop deck is growing and cultivating plants and flowers of your choosing. Depending on the size of your rooftop deck, there are many options for selecting plants and flowers for your space.
Smaller rooftop decks are ideal for growing herbs, vegetables, and edible flowers. These can be planted in containers. This way, they can be moved around depending on the amount of sunlight or shade the area receives. Other good choices for smaller rooftops are succulents and small ornamental shrubs.
Small roof decks are a great place to add wall planters or a mini garden. Larger rooftop decks provide more space for larger plants and bushes that require more space, soil, and water. An excellent option for larger spaces is to create a green roof with vegetation that will thrive in the hot climate.
Have plenty of space? Consider installing a pergola on your rooftop deck. This allows shade from direct sunlight in the summer months. A pergola is an elegant addition to your roof while offering some protection from harsh weather conditions such as strong winds or rainstorms.
Potted trees, such as olive and fig, are perfect for larger rooftop decks and lavender, daisies, and other perennial flowers. Gardens improve the aesthetics of your rooftop and provide fresh edible goods for your home.
If you need more space for a traditional garden bed setup, install vertical planters, which take up less space but still give you access to plenty of vegetables and herbs for cooking dishes all year round.
Create a space that is both beautiful and functional. Add hanging plants, trellises, and other vertical elements to maximize your available space.

Rooftop Decks are Great for Entertaining
Adding a rooftop deck to your home is a great way to create a beautiful private space for entertaining guests.
Rooftop decks allow amazing views and a chance to get creative.
Whether you're looking to host a dinner party or have friends over for drinks, there are plenty of ways to make your rooftop deck entertaining.
Consider incorporating built-in seating into the design. This helps create more of a communal atmosphere for your guests.
Adding colorful plants and flowers around the edges creates a relaxed outdoor vibe.
Hanging lights from the ceiling or lining the stairs with candles can help to set the mood for nighttime gatherings.
Add comfortable cushions and blankets for cooler evenings.
Use natural elements like wood and stone to add texture and warmth.
Incorporate outdoor string lights, outdoor rugs, and outdoor curtains. These create an inviting atmosphere.
Consider adding decorative pieces like sculptures to complete the look.
Fire Pits Add a Beautiful Glow to Rooftop Decks
Building a fire pit into a rooftop deck design can add beauty and functionality to an outdoor space. Fire pits provide warmth, light, and ambiance to an area, making it the perfect spot for entertaining guests or relaxing after a long day. And you can use your fire pit for cooking tasty meals outdoors. A fire pit is always a hit, from marshmallows for s'mores to grilling up summer favorites like hot dogs and hamburgers.
Safety should be a top priority when adding a fire pit to a rooftop deck! Ensure the fire pit is installed correctly with proper ventilation and that all combustible items are at least ten feet away from the flame. Be aware of any overhangs or low-hanging branches that could make it easy for sparks or embers to jump onto nearby surfaces. Remember that a deck on a rooftop may be a windier environment than one on ground level, allowing sparks from a fire to travel farther.
Use non-flammable materials such as stone or brick when constructing your fire pit to contain the heat and prevent accidental burning. Store extra logs away from the fire pit to reduce the risk of unintentional fires if left unattended.
Creating the right atmosphere around your fire pit is also essential. Set up outdoor speakers and enjoy music around the fire pit while hosting late-night gatherings. Invest in a basic toolkit for your rooftop fire pit. This should include tongs, an adjustable grate, poker sticks, and a shovel, among other essential items such as protective gloves and eyewear.
Building a Green Rooftop
Creating a green rooftop is a great way to add more space, greenery, and beauty to your home. There are several ways to create a green rooftop, from building a rooftop garden to installing a vegetated roof system.
Evaluate how much space you have available on your roof. Ensure you have enough room to construct a rooftop deck and the green roof elements. Investigate the type of plants and vegetation that are appropriate for your environment. Some species may not thrive in certain climates or regions. However, there are many species of moss and sedum that tend to do well in a variety of zones.
Consider the type of support you'll need for your green roof. Ensure that the soil can support the weight of the vegetation and any furniture or planters you may have. When installing a vegetated roof system, determine the best material for waterproofing and draining the roof. A green roof will not only reduce heat gain but also reduce stormwater runoff and filter pollutants from the air.
Tips for Building a Rooftop Deck
Before building, there are essential considerations, such as the deck's location, the materials you will use, and the deck's design.
When selecting a location for your rooftop deck, seek permission from your local municipality.
Consider how much natural light hits the deck. Also, note which direction the sun will hit the deck throughout the day.
Once you have selected the perfect spot for your rooftop deck, it's time to start designing.
How do you want to use the space? Do you want to use it for entertainment? Or as an outdoor living area? What type of furniture and accessories will you include? Do you want to incorporate green roof elements like planters or a garden?
When deciding on materials for your rooftop deck, consider durability and maintenance needs. Some popular options include sustainable wood tiles, composite decking, or 2CM pavers.
Once you have all these factors, it's time to decorate and design your rooftop deck. Here are some tips for making the most of your outdoor space:
Incorporate lighting features to create ambiance and make using the deck at night easier.

Utilize different levels with built-in seating and tables for entertaining.

Incorporate greenery with potted plants, hanging baskets, planters, or a small garden.

Choose outdoor furniture that complements the style of your home and rooftop deck design.

Incorporate interesting elements like an outdoor fireplace or even an outdoor kitchen.

Select colors and patterns that complement your home's exterior design.
How to Maintain Your Rooftop Deck
Maintaining your rooftop deck is essential to ensure it's safe and secure for your family and guests. Regular maintenance will also help maintain the aesthetic appeal of your rooftop deck.
Here are some tips for maintaining your rooftop deck:
Clean regularly: Cleaning your rooftop deck periodically is vital to prevent dirt and debris from building up. A pressure washer is often the best way to keep your deck looking clean and new. Refer to the product sheet for the materials you are using to gain insight into appropriate cleaning methods. For example, wood should be cared for differently than ceramic pavers.
Inspect and repair: Inspect your deck for any loose boards, nails, or signs of damage. If you find any problems, you must address them immediately to prevent them from worsening.

Paint and seal:

If you have a painted deck, a fresh coat can do wonders for a rooftop deck. It can also protect it from the elements. Use a waterproof sealant on any exposed wood to protect it from water damage. Of course, if you have beautiful stained and sealed wood tiles

, you won't want to paint over them!

Invest in furniture: Investing in furniture made specifically for outdoor use will provide comfort and help protect your deck from wear and tear. Purchase quality pieces that are made to last.
How to Decorate a Rooftop
A rooftop deck is perfect for soaking up the sun, enjoying the views, and entertaining guests. But it's also an excellent opportunity to make your outdoor space look beautiful. Whether starting from scratch or sprucing up an existing rooftop deck, here are some tips for creating the ultimate outdoor oasis.
Decide how you want to use your rooftop deck.
Do you plan on having a lot of visitors, or do you prefer a cozy space for two? Are you hoping for a large gathering area or a place to relax quietly?
Knowing the activities you plan on having on your rooftop deck will help guide your decorating decisions.
Take into account the size of your rooftop deck when designing it. Consider using multiple levels and planters for a small space to give the illusion of depth.
Focus on the details. Small pieces like throw pillows, wall art, and string lights can make all the difference in transforming an ordinary deck into something extraordinary.
When it comes to color, think outside the box. From bold hues to subtle neutrals, play with different colors and patterns to find the right fit for your space.
If you're looking for something more natural, consider a green roof. You can incorporate potted plants, flowers, and shrubs to bring life to your rooftop deck and add a bit of greenery.
Have fun with your decorating. Add some personality to your rooftop deck with unique accents like a hammock or an outdoor rug. As long as you keep function and comfort in mind, there's no limit to what you can do with your space. With these tips, you'll be able to create a beautiful rooftop deck that you'll never want to leave.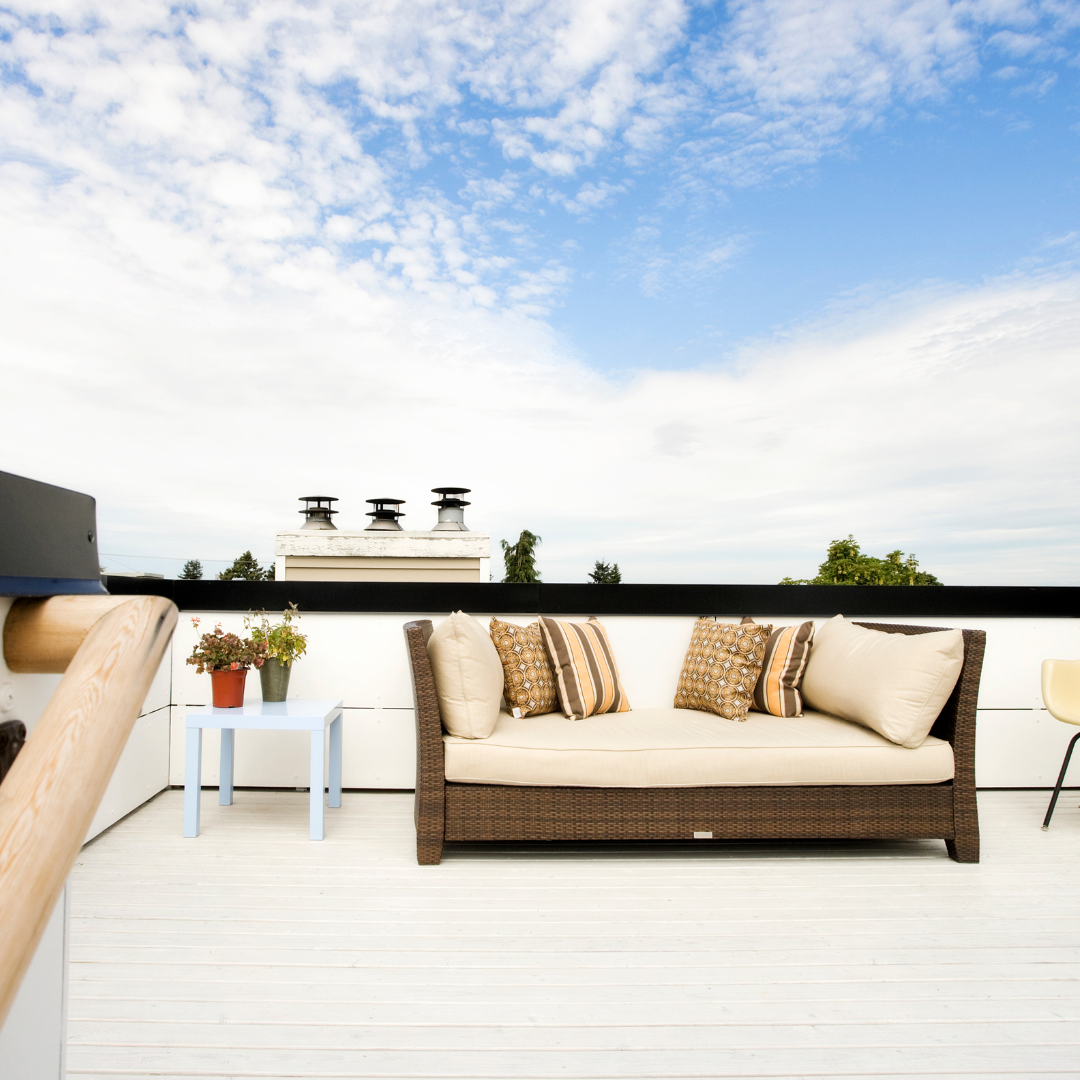 Rooftop Decks Make Summer Better
Rooftop decks are a great way to expand your outdoor living space and add a touch of nature to your home. Whether hanging a hammock to enjoy the summer breeze or installing a mini bar and comfy seats to entertain guests, rooftop decks improve summers!
Bison has been providing customers with innovative solutions and ideas for rooftop decks since 1994. Our product line has everything you need to create a rooftop deck system that will enhance your living space. Contact our team for help with product selection.